Executive Summary
With the end of the year fast approaching the Volkswagen team wanted to finish 2018 strong. To do this, Volkswagen decided to employ the use of digital marketing and the Trend Media team was selected as a partner. Volkswagen planned and hosted a test drive event on December 16, 2018, the Trend team was entrusted with task of bringing awareness about this event. Needless to say the digital promotion of the event turned out to be largely successful as Trend exceeded the targets in advance of the stipulated timeline.
Challenge

Volkswagen's inaugural campaign with Trend Media Group was slated to launch November 19, 2018 to December 16, 2018. Trend's major endeavor was to:
Incite potential customers to sign up for the December 16, 2018 Test Drive event and
Drive footfall to the Curacao dealership.
With its competitors Suzuki, Kia and Hyundai very active and visible in this market, Volkswagen wanted to:
Obtain at least 20 quality leads for its upcoming Test Drive event and
Develop pool of first party data to facilitate retargeting for future campaigns.
Solution

The Trend team devised a three pronged approach to take on the challenge. This included:
Programmatic advertising.
SMS
Insta-page.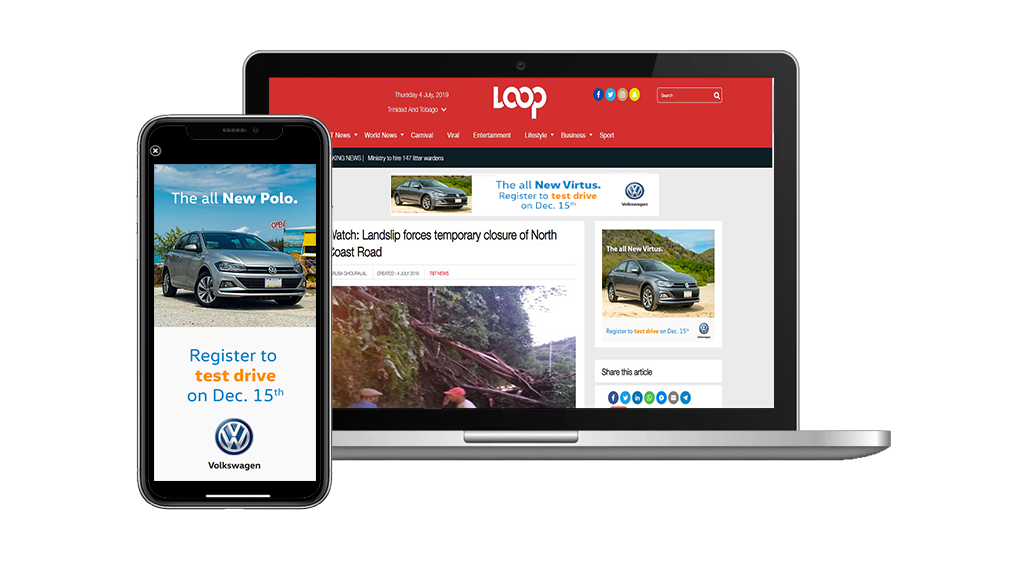 Results

This campaign was a huge success! So much so that the advertiser requested that the fight period be reduced because they were oversubscribed for their test drive event.
 Programmatic:
This campaign performed well by exceeding most the forecasted targets. The campaign delivered 19,364 in traffic, however, the campaign generated 824,731 impressions; 44,834 less than forecasted. This may be attributed to the fact that the campaign ended prematurely due to the fact that the quota for test drives was met ahead of time. CPM came in $0.20 less that forecasted while the CPC came in at $0.54 less. The TREND team managed to drive 2.22% higher CTR than projected all while staying within the $1000.00 budget.
 INSTA PAGE
The efforts of this campaign captured first party data using the Intsa -page designed by the Trend team. This is data that the advertiser can use for future campaigns. The data collected included:
Telephone numbers
Email addresses
IP addresses and
The model car that respondents are interested in.