Executive Summary
Suzuki Caribbean tasked Trend to develop a campaign to produce relevant traffic and leads to showcase the power of digital advertising as an avenue for revenue. Trend and Suzuki decided to employ the use of Urchin Tracking Modules (UTMs). These UTMs were implemented in Suzuki's Google Analytics interface and the URLs used in the campaign, enabling Suzuki to have visibility on the reported figures by way of their Google Analytics platform.
Their Google Analytics indicated that 79% of the traffic to their website was as a direct result of the programmatic campaign administered by the Trend Media team. Thus, Trend achieved one the campaigns major goal of driving website traffic.
Challenge

With a flight date of February 11 to March 8, 2019 Trend was commissioned to carry out a multi-market regional campaign across six (6) markets to drive awareness of specific Suzuki models, the Baleno and Vitara.
Campaign goals were:
To generate website traffic.
To create purchase intent.
To create an overall awareness for brand Suzuki and its models.
In addition to the above goals the TREND team was tasked with the objective of creating UTMs to ensure that the figures being reported on website traffic were accurate.
Solution

This client opted to carry out their own social activity and as such from our suit of products they selected programmatic advertising. For this campaign the Trend team worked tirelessly with Suzuki Caribbean to create UTMs to be implemented in their Google Analytics platform pursuant to the achievement of campaign goal number one (1).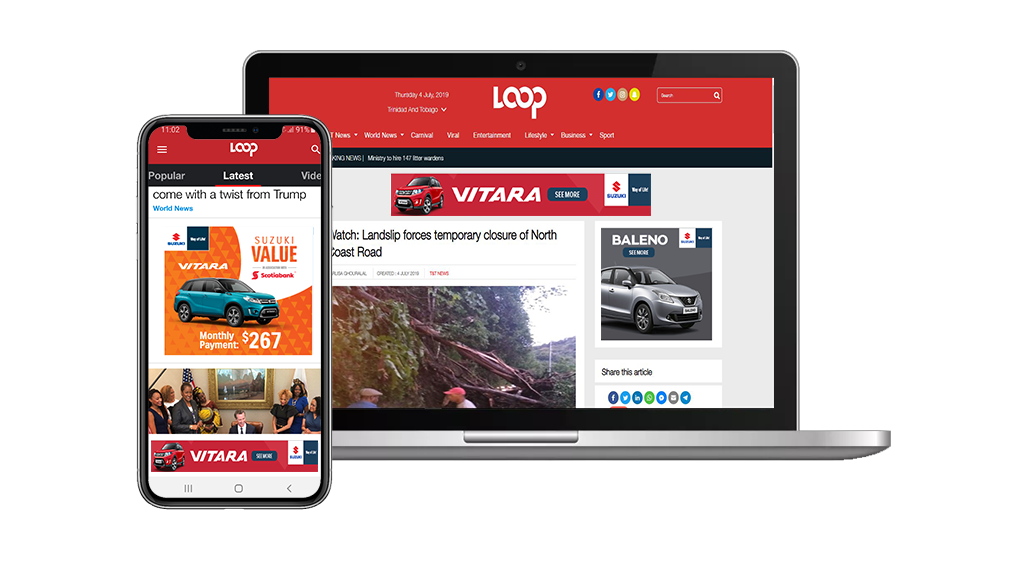 Results

With an overall campaign for all six markets, the Trend team was able to serve over 1.7 million impressions which resulted in over 17,000 visits to Suzuki's website. This translated to a click through rate of 1.04%. which is higher than the international industry standard just 0.13%