Challenge

Sheraton Mall has the distinction of being the first as well as the largest mall on the island of Barbados with over 120 stores and services including a Food Court and multiplex cinema.
The mall is centrally located on the South Coast, only a few minutes from St. Lawrence Gap, with late shopping until 9pm, Monday through Saturday as well as one-stop duty-free shopping in a contemporary style.
The team at Sheraton Mall launched a Black Friday promotion geared at increasing sales and traffic during the month of November and needed cost effective means of getting the word out to their customer base.
Solution

The Trend Media team in Barbados activated a combined strategy for the Sheraton Mall campaign. From Nov 1st to 23rd we activated the Sheraton Mall Black Friday Campaign using SMS and Loop Display in Barbados.
As this was a mobile campaign, only the interstitial creative was used. This is a high impact creative which always performs well and as this was a short campaign this was the best strategy to implement. The SMS message was reworded to appeal to the receiver and encourage engagement.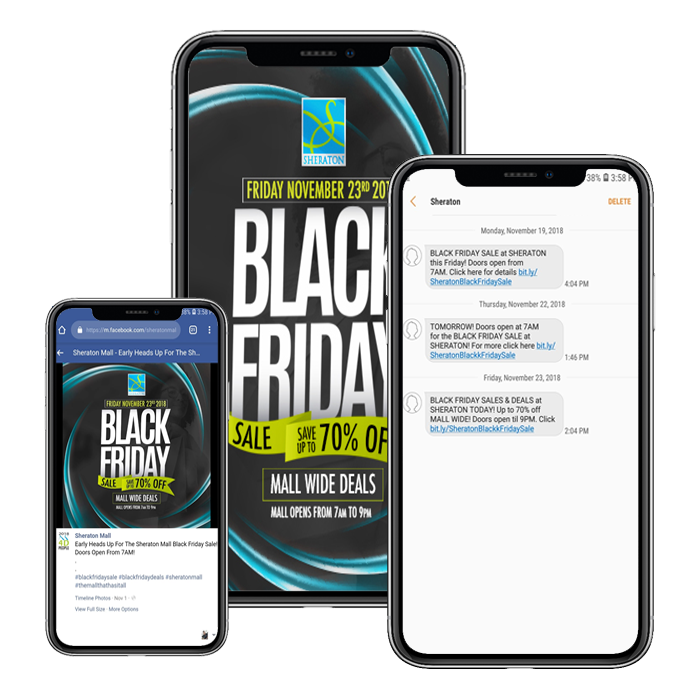 Results

Both Solutions utilized for this campaign over performed against the industry standard;
SMS standard result is usually 1%; the Sheraton Black Friday campaign achieved a whopping CTR of 14.03%.
With respect to the average results from a Loop Display campaign usually being 0.10%, the Sheraton Mall Campaign surged with a total of 3.33% CTR for the period of the promotion.
Combined CTR from the two Trend owned solutions accounted for a 4.97% CTR.