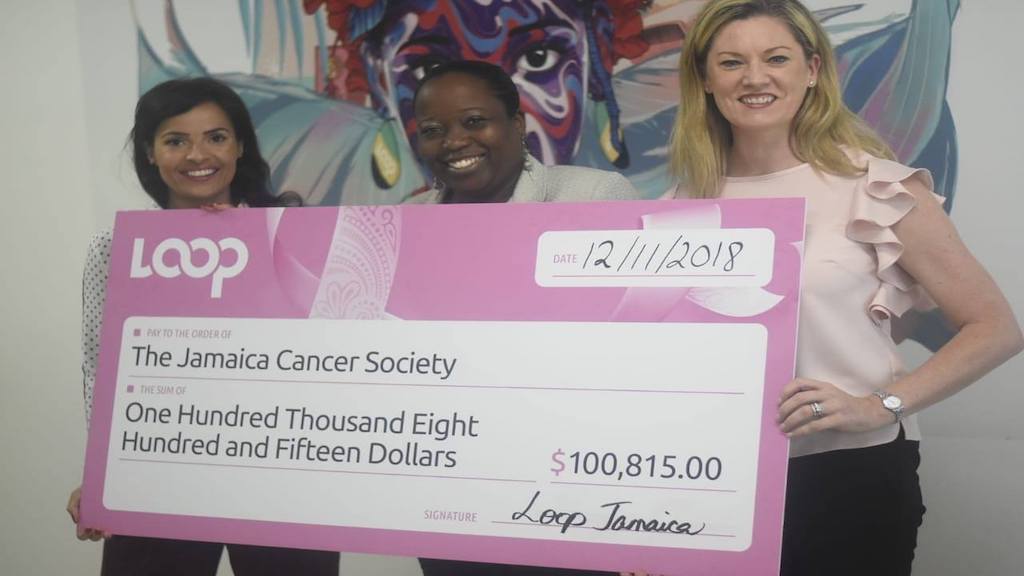 Loop News presented a cheque of just over $100,000 to the Jamaica Cancer Society (JCS) on Wednesday.
It was the culmination of the media house's Breast Cancer Awareness Month campaign that saw it sharing breast cancer awareness articles all month long while donating $15 for each download of its app in October to the JCS.
Aileen Corrigan, the CEO of Loop News publisher Trend Media, made the presentation to Shullian Brown, Public Relations Officer of the JCS. Alana Fearon, Loop News' Global Head of Content, was also present at the ceremony.
"We started off the campaign to really draw awareness to the Jamaica Cancer Society, because it (cancer) really affects everybody," Corrigan said.
"It's all about awareness… it will help save lives, and that's ultimately why we want to support this great cause," Corrigan added.
Brown said the funds will be used to offset some of the fees that patients of the JCS have to pay.
She said, "for us at the Jamaica Cancer Society, we are always grateful to our corporate sponsors who come onboard and support the cause.
"Cancer is bigger than all of us and, however small or big a donation is, it goes towards our patients' support fund, which are used to give small grants to individuals who visit us on a daily basis, seeking funding for cancer treatment, for diagnostic tests and especially for chemotherapy drug," Brown added.