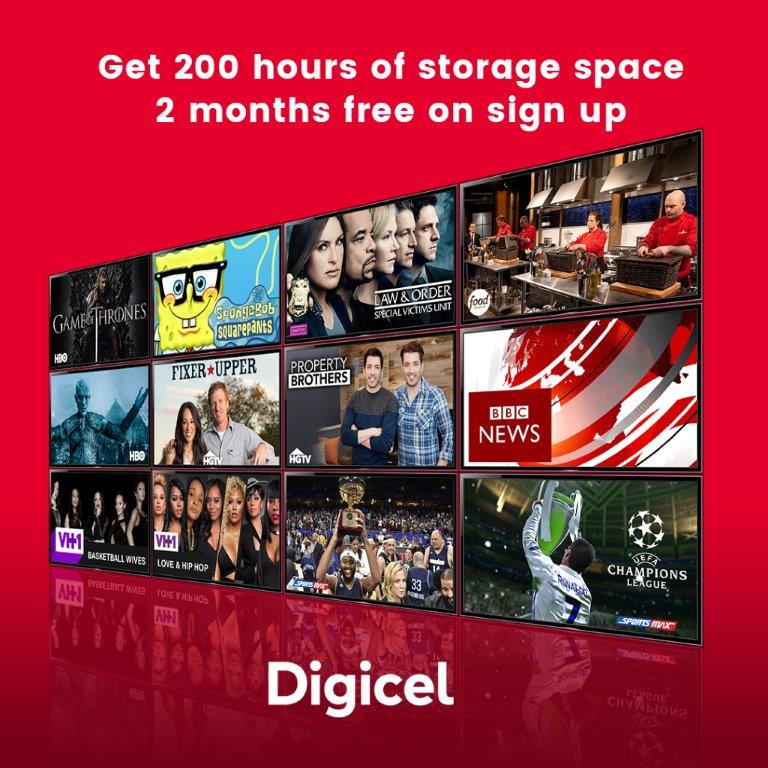 Digicel offers a new frontier in Home entertainment, bringing you the excitement of today & tomorrow using the latest digital and fibre technologies.
The network carries the latest selection of local and global television channels, exclusive content, coupled with world class TV experience and a host of exciting new features.
Launched in 2015
Over 700,000 viewers across the Caribbean
Operating in 8 countries and counting
Fastest growing cable TV provider in the region
Available in the major densely population centres across the region
Incredible Reach, Affordable Value
Digicel TV offers unique and customisable advertising solutions for any marketing budget with the ability to advertise on the top 20 most watched TV channels. Reach a diverse customer base using tailored solutions that deliver your messages in the midst of top viewed content like the hottest daytime and primetime programmes.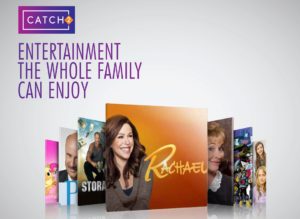 Digicel's TV network reach averages 34 million views per month with an average of 52 million viewing hours. The Advertising channels deliver 8 million views per month.
Don't have a TV commercial for your product? Don't worry, Digicel TV offers creative and low cost ad formats like pop ups, squeezes and scrolls that can get your message to the viewer.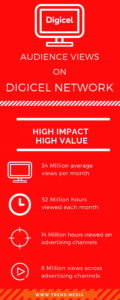 Digicel TV offers best in class advertising
Affordable – Cost effective as you are paying only to reach your target within a specified geographical target.
Frequency – High rotation of your advertising message on channels your target audience are watching
Targeted – You are speaking directly to your target audience, as we seek to match your target profiles to that of the channels and programs. This therefore means significant savings as you eliminate waste.
Connection – You are connected to an engaged audience as your message is placed right in the midst of top rated shows. Your message also has a direct connection with channels such as HGTV, DIY and others.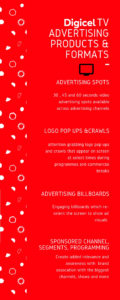 For more on Digicel TV advertising solutions contact us at Sales@trend.media today